1 Healthy, 2 Wealthy, 3 Wise - 17th May
Michael Jordan | Greatest Movie/Series Dialogues | JK Rowling @Harvard | Simplicity | Howard Marks
A weekly newsletter bringing you the best of Health, Wealth and Wisdom to lead, better meaningful lives. Please help share this newsletter below or give me feedback on how I can improve further.
QUOTE OF THE WEEK - Larger than life, to the point 🎯
Albert Gray, a life insurance executive at Prudential, discussing the importance of habits in the 1940s: "Every single qualification for success is acquired through habit. People form habits and habits form futures. If you do not deliberately form good habits, then unconsciously you will form bad ones. You are the kind of person you are because you have formed the habit of being that kind of person, and the only way you can change is through habit." - From The Common Denominator of Success via James Clear

"The object of life is not to be on the side of the majority, but to escape finding oneself in the ranks of the insane." ~Marcus Aurelius
TWEET/ OF THE WEEK - I still can't believe Twitter is free. Thank you Jack 👌🏼
Random Thoughts - Michael Jordan 🧠
Nothing in this post is an investment advice guys
The Last Dance - a documentary on Michael Jordan, is overwhelming at times and a rare treat to watch. Available on Netflix, it is a fascinating life journey of one of the greatest living legends of our generation. My friend Pavel Bains of Bluezelle, summarised it very nicely:
"A bunch of good takeaways from it. I think a lot of it comes down to what the people want. Do you just want to be in the league and play? Do you want to win? Do you want to win the title? Do you want greatness?"
What do you really seek? Greatness comes at a cost and remains your only goal in life, at any cost, be it MJ, Steve Jobs, Elon, Einstein, Tendulkar…..you've got to be a little eccentric. Focus, focus, focus….until you achieve greatness. Make others play your game and make them look at the big picture. If you cannot, you've failed. Set an example by "doing it yourself"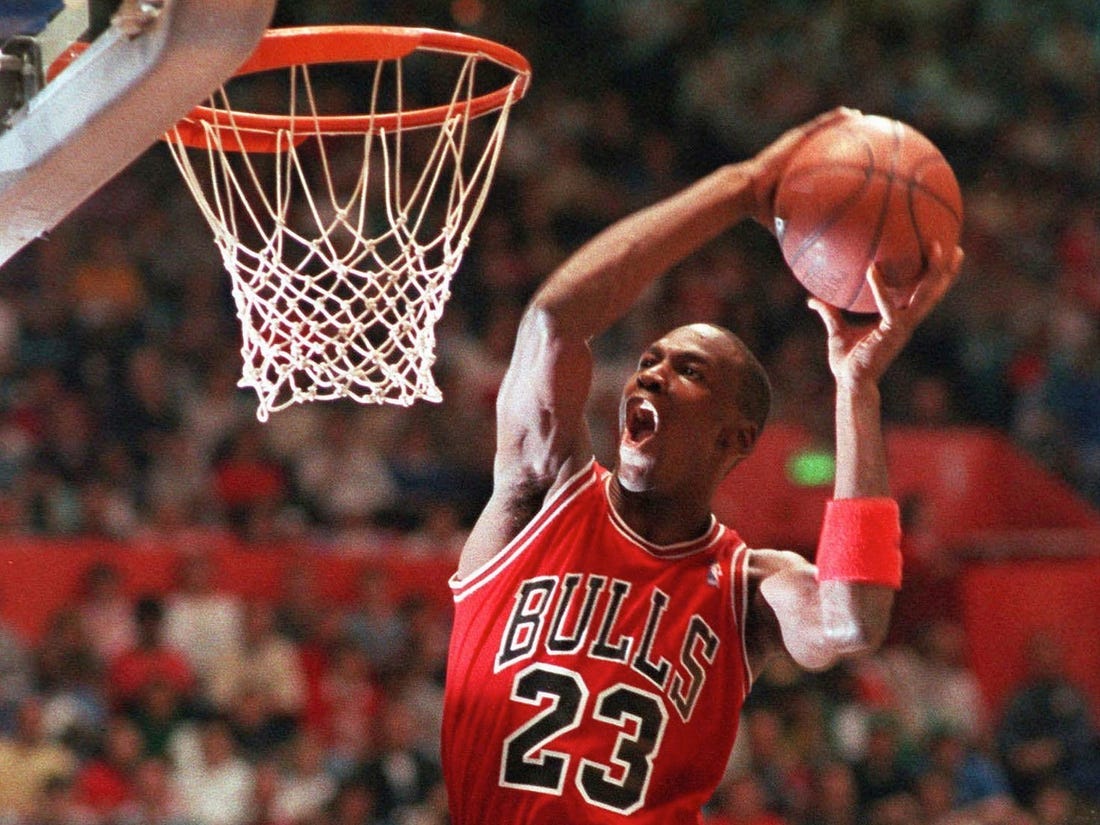 Talking of Netflix movies and series, there have been some exceptional ones over the recent years. Trying to search and put together some of the greatest quotes from various movies / series. Maybe keep a limit to 10, otherwise I can get carried away :)
Which one is your favourite, do share or comment, and let me know……
Here we go - Top 10 Favourite dialogues from Movies / Series
Especially in light of current times, when no one trusts their own government. Why such tyranny by own governments?
Professor & his brother Berlin - Money Heist. Depth of dilemma in front of you makes you decide if you want to keep your integrity or not?
When you're backed against a wall, break the goddam thing down - Harvey Spector, Suits
Andy Dufresne (The Shawshank Redemption) -

"The funny thing is - on the outside, I was an honest man, straight as an arrow. I had to come to prison to be a crook"

"Money is not peace of mind. Money's not happiness. Money is, at its essence, that measure of a man's choices." - Marty Byrde, Ozark

"Power is a lot like real estate. It's all about location, location, location. The closer you are to the source, the higher your property value." - Frank Underwood, House of Cards

Whatever you do in this life, it's not legendary, unless your friends are there to see it - Barney Stinson

"when you have to shoot, shoot, don't talk" from movie the good the bad and the ugly.

This is your life and it's ending one minute at a time -Tyler Durden (Fight Club)

"If you don't want to play that way, don't play that way" - Michael Jordan, The Last Dance
---
1 on Health 🏃🏻‍♀️🏃🏼‍♂️
Naval never rests and here is another gem of a tweet storm on meditation - the art of doing nothing.
Meditation - The Art of Doing Nothing:
---
2 on Wealth - Deflation vs Inflation & History of Money & Nations 🥂🍻
Terminal Deflation Is Coming Central banks' interventions in the pandemic economy are unprecedentedly vast—and not nearly enough.

Ray Dalio's entire weekly newsletter / series on Value of Money is amazing - Principled Perspectives. Best is how Ray dwells deeply into history of countries, currencies, deflation etc a technique I adore, and comes out with references to present. The entire series is lengthy, but worth a read in my $0.02. You can get the links here below. More importantly, you might want to tinkle your brains a little bit more if you read hundreds of comments and how everyone else thinks.
---
3 on Wisdom 🧠🗣
Life is a pointless raise and your mind is never at ease. Wise is the one who can control their minds & desires.

An empty mind is a complete mind -Krishnamurti

"No technique of the mind will free you from the mind."

A short but powerful reminder about the difference between outward simplicity and inward simplicity by J. Krishnamurti
---
Video I am watching - JK Rowling @Harvard
Beautiful speech - touching on pain & failure, life giving you lemons, but there is much more suffering in this world than you can imagine. You are the lucky ones. She got son to talk about success, and more importantly Kindness. Be kind, be good.
Listen to the pain. It's both history teacher and fortune teller. Pain teaches us who we are, Wade. Sometimes, it's so bad, we feel like we're dying. But we can't really live till we've died a little, can we? - Deadpool 2
---
Podcast that I enjoyed
Howard Marks with Tim Ferris's on the US Dollar, Three Ways to Add Defense, and Good Questions
---
Share HashTalk Love, Have a Great Week Ahead!
Connect with me
---
Disclaimer: None of the content in this newsletter is meant to be financial advice. Please do your own due diligence before taking any action related to content within this article. This post is for reference only. It will not help you to "lambo" or "moon" or any other euphemism for unhinged speculation. It should help you to supplement your own analysis of the markets. Enjoy.